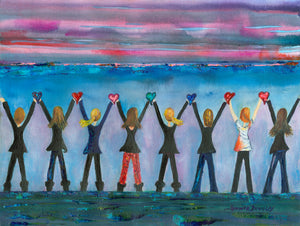 SHE DESIGNED A LIFE SHE LOVED
•
sold
JEANNIE DOUGLAS ART
ORIGINAL IS N/A/SOLD. FINE ART REPRODUCTIONS ARE AVAILABLE IN PRINT STORE.
This is one of my favorite paintings, as it comes deep from my heart. On a weekend, women's retreat by the Sonoma Coast, I was lucky enough to be among a group of very special women. We experienced a shift of healing, inspiration, gratitude and transformation together.  On a rainy morning, we walked down to the cliff's edge, with our leggings on. We let go all of the things that were not serving us and lifted our hearts to the sky. We were designing a life for ourselves that brought us love and joy. Truly an inspirational moment that I will never forget.  
This painting has also been used in some commissioned work and  marketing materials for a Women's Financial Independence seminar. The power of women is truly amazing.